The Team
Clos Solène is a family owned winery on the westside of Paso Robles in the heart of the Willow Creek District. They say it's team effort, and here at Clos Solène it is no different. Guillaume, with his assistant winemaker, Aurelien Crouzet, focus on the vineyards and the wines, while Solène, and Roxanne Malkie, run operations. Together as a team, Clos Solène is no longer pouring out of their kitchen, but in a quaint tasting room nestled in the vines of the 28-acre estate.
---
Guillaume Fabre
Owner & Winemaker
Born and raised in the Southeast of France, Narbonne, Guillaume comes from a family of grape growers and winemakers. After 24 years in Narbonne, he moved to Bordeaux. Both regions famous for their wines are also very different from each other. It requires some grape growing and winemaking experience to switch from one to the other, such as different climates, soil types, vine illnesses and more. But life is full of surprises. Not convinced he wanted to make wine in Bordeaux, he took a harvest internship at L'Aventure in Paso Robles. The same bolt of lighting that he felt for Solène, struck again. He fell in love with the soil and terroir of Paso Robles. What was supposed to be a 3-month harvest internship, turned into 6 months, and he was offered the position of Assistant Winemaker. While working for L'Aventure, he worked day and night on his own project - to launch his very own brand. In 2007, Clos Solène was born.
---
Solène Fabre
Owner, Muse & Estate Yoga Guide
"Who would have imagined I would live in California one day!" Solène was born and raised in a small town in North West Bordeaux, Bourg sur Gironde, where her parents were both doctors. She grew up like any child in her hometown, harvesting in September to make some money, drinking a small glass of wine at dinner because it is cultural. But besides her mother who always dreamed that she would marry a winemaker, she didn't know much about what was to come…
Solène studied Spanish Language, Literature and Civilization at the University of Bordeaux, France, and in Seville, Spain. Just before graduating as a Spanish teacher, Guillaume mailed her a plane ticket to come to see him in Paso Robles while he was there as an intern. This is how they decided to move the following year to California. She worked for two different wineries before she started working full time for Clos Solene.
"This is a dream becoming reality. We invested the small savings we had, worked and still work as much as possible to, first, make an elegant wine with character and personality, but also to develop a relationship with the persons who are supporting us in this endless work. I love sayings and proverbs so let me finish with this beautiful sentence by Eleanor Roosevelt: "The future belongs to those who believe in the beauty of their dreams."
---
Roxanne Malkie
Estate Director
Roxanne joined the Clos Solène family in June 2017. Roxanne is originally from the south of France, a small town called Pau. At the age of 18 she moved to Bordeaux to go to college and found a job at Bordeaux Wine & Trade museum in the Chartrons district. This is how it all started. After a couple of months, she discovered her passion and decided to pursue an associate degree in Oenology. Roxanne also loves to travel and decided to move to Hawaii. As Hawaii isn't known for its wine growing, she continued her career in the service industry in a high-end fine dining restaurant in Oahu. A year and half later, it was time for her to move back to wine country and picked San Luis Obispo County. She took a job at Denner as the tasting room lead where she worked for two years. Roxanne joined Clos Solène in June 2017 to manage and build the hospitality program. After 5 years growing with the company, she is now our Estate Director overseeing all operations.
---
Aurelien Crouzet
Assistant Winemaker
In May, 2016, we "brought over" Aurelien Crouzet from France to be part of our team. During Guillaume's very last harvest at L'Aventure Winery, Aurelien was a harvest intern and this is when we knew we wanted him apart of the Clos Solène team. Not only is Aurelien an old family friend, but also he is from a wine business family in Bordeaux and understands the hard work it takes to be a winemaker and grape grower. We are happy to have Aurelien overseeing all aspects of our production.
---
Alexandria Broedlow
Hospitality Manager
A recent Alumna of Cal Poly, San Luis Obispo, graduating with a Bachelor's of Science in Agricultural Communications Alex attended coursework in agricultural sciences, marketing, public relations, and journalism classes. Alex spent most of her college career carrying out her senior project, a local craft wine market for boutique winemakers. This is when she fell in love with the wine industry, but particularly those wineries that are small, family owned and farmed. After spending a year abroad in Australia and New Zealand traveling to various wine regions she returned to the Central Coast to make this her home. Alex was invited to join the Clos Solène family in 2020, starting as an Estate Host and quickly worked her way to managing the hospitality team.
---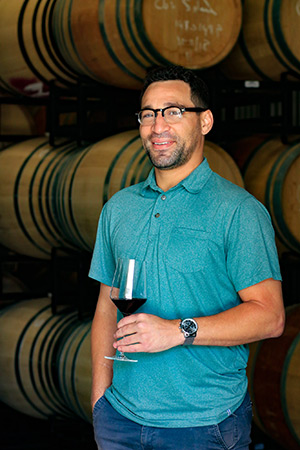 Jacob Holliman
Membership Manager
A northeasterner at heart, born in New York living from Long Island all the way to Buffalo. Jacob is an alumnus of the University of Missouri and spent summers working in photography and wine bars across the country. He's had a passion for wine since he was young; Understanding the passion behind the project. After traveling overseas in Asia he knew the wine industry was where he belonged. "Once back in America I searched long and hard for a company that matched my passion and I truly found that with Clos Solene. We are friends and co-workers but most importantly we are family!"
---
Eugenie Meynard
Hospitality Intern
Born and raised in France, wine has always been at the centerstone of her childhood and family life. She has worked for several properties on the left and right bank of Bordeaux and for a wine merchant. Eugenie went on to receive her Master's Degree in Wine & Spirits and had the desire to discover a new wine region. This brought her to Paso Robles to learn about California wines and the hospitality that is very prominent here. Clos Solene was the perfect place to carry out her 18 month internship. She has hopes of returning to Bordeaux to work in wine sales.
---
Connor Quiroz
Production Hand
Growing up in the Central Valley of California in the town of Fresno, California, he was always surrounded by agriculture. Connor attended Cal Poly, San Luis Obispo and graduated with a Bachelors of Science degree in Wine & Viticulture. He dove into the working world with two harvest internships, one with Orin Swift in Napa and the other in Edna Valley here on the Central Coast. After graduation Connor worked a year in Santa Clara doing Chain Sales for EJ Gallo before coming to the realization that learning winemaking was the passion that he truly wanted to pursue. After meeting with Guillaume and Aurelien and hearing the story of Clos Solène, Connor was convinced to move back to the Central Coast and join the the team as their first official Production Hand.
---
Nancy Mayerson
Estate Host
As a wine enthusiast for many years, Nancy has been enjoying Central Coast winery experiences for decades, but when she and her husband visited Clos Solène, they were blown away by the wines, the personal tasting experience and the heart-felt family business that carries a legacy. Nancy joined the hospitality team after moving to the area from Westlake Village, having retired from running her boutique marketing and PR agency for 30 years, serving clients throughout Ventura County. You can recognize her in our tasting room by her happy spirit and bright smile!